Ten Year Anniversary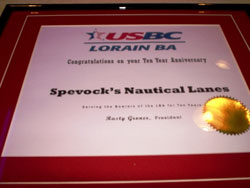 Friday, October 11, 2013 marked the ten year anniversary of Nautical Lanes in Avon Lake. Located at 184 Miller Road the bowling center is the last building remaining from the old Aqua Marine Resort complex. Current proprietors Jim and Joel Spevock purchased a bowling center in 2003 that had previously been closed for seven years. Having grown up in the industry the boys helped run a bowling center in the area as children with their father Jim Spevock Sr. who was a partner in the business for over twenty years.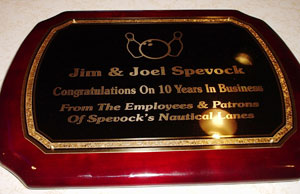 It was their history working with their father that motivated them to take a leap of faith and get into the bowling business for themselves. When they purchased the building and the business, the roof leaked, the equipment had not been maintained since the bowling center was closed, and buckets full of water were actually found in the rafters above the ceiling tiles. Part of the ceiling had fallen across the bowling lanes.
The brothers spent the winter and summer months of 2003 working on the property with a goal to open for the fall bowling season that started in September. Their opening day of October 11, 2003 found them with no leagues and virtually no customers because the season was already one month old. Jim Spevock said, "We had to build a new business model that focused on children's birthday parties, corporate events, fundraisers and recreational bowling. Slowly the leagues have come. In those early years we really worked hard to build a business based on family entertainment which has been embraced by our current customers."
Family history plays a big part in the Nautical Lanes operation. Not just in the Spevock family, but with the patrons as well. Jim pointed this out with an example. On a recent Thursday night, local bowler Ernie Radeff was watching his grandson Shawn bowl in his league. Jim said, "Ernie bowled in various leagues at the old Aqua Marine Lanes, his son Dennis Radeff bowled a 299, one of the first honor scores in the history of Nautical Lanes and now his grandson is bowling here. Support like this from our customers has helped keep us around for the first ten years."
Excited to see what the next ten years will bring, the brothers are not resting on their past success. They recently installed a state of the art automatic scoring system representing a significant capital investment in the business. They also feature Rock N Bowl with strobe lighting and a sound system on Friday and Saturday evenings. This has become popular with younger bowlers looking for a fun night out. Most importantly Joel Spevock said, "We try to be good members of the community where families can have fun."
Nautical Lanes hosts many bowling fundraisers for local charity events, participates in bowling events with the Special Olympics and Camp !magine and participates in the Summer Kids Bowl Free program. Lorain Bowling Association members on hand for a special ceremony to commemorate the anniversary summed it up best. "In an industry that has seen local bowling centers in Lorain and Cuyahoga Counties close over the last two decades due to the economy and shrinkage in recreational dollars, the story of Nautical Lanes is a true success."